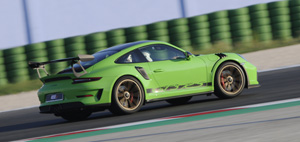 Porsche Motorsport special departments have delivered RSE Italy one of the fantastic specimens of the new Porsche 991 GT3 RS. All the features of the 911 powered by state-of-the-art technology.
The Porsche 991 GT3 RS was chosen by the connoisseurs, the Queen of the Porsche. Rse Italia wanted to make it even worse, customizing the livery with a finishing satin silver, combined with a blue sport. Special braking system and original Porsche in Caliper.
Book a tour now and discover its roaring soul! Live with RSE Italia unforgettable emotions. Track this amazing supercar: the perfect gift to yourself or to give to special people.