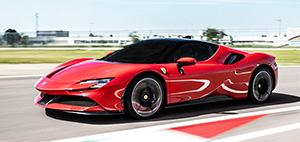 RSE Italia gives welcome to the brand new Ferrari SF90. This supercar is the first production plug-in hybrid car produced by the Maranello company.
The Ferrari SF90 is equipped with a twin-turbo V8 engine supported by three electric motors and together they are capable of delivering a maximum power of 1000 HP, allowing it to reach a speed of 100 km/h in just 2.5 seconds.
From today, thanks to RSE Italia, anyone will be able to try on the track the new born from Ferrari, taking advantage of the promotional preview introductory price.
An unmissable opportunity, designed for all those who want to give or treat themselves to true and intense emotions.